Tel: +86-10-89207378
Fax: +86-10-89207378
Mobile: WeChat:StillLeo
E-mail: [email protected]
Skype: stillsuccess1



Product : Colorful Screen Leeb Hardness Tester

Model : DH600

Country of Origin : CHINA

Brand : DTEC

Quality Certified : CE,GB/T 17394-1998, ASTM A956

Delivery Time : 3 days

Packing Weight : 6KG

Dimension : 38x30x12cm(LxWxH)

Package Type : Maker's Standard Export Carton

Courier : DHL/TNT/FedEx/UPS/EMS,Shipping Agent

Payment Term : TT100%/Private Bank Account/L/C/Paypal/Western Union
Product Intro
Feature
Specification
Packing List
DH600 Colorful Screen Hardness Tester is a state-of-the-art model with colorful high-definition, 2.4inch QVGA(320*240 dot matrix) IPS Screen and mass storage; what's more, it has an exclusive function of multi-scales display(display HRC,HV,HLD at the same time on the screen),function of intuitive display curve interface.
It is applicable to big workpieces on-site hardness testing and batch testing on the workpieces in production lines. Moreover, it is also used in metal manufacturing industry, transportation, power station, petrochemical industry, aircraft industry, construction, lab, etc.
Working Principle:
When the impact body,with a certain weight,impacts against the specimen surface under the action of spring force,leeb hardness comes from the ratio of the impacting velocity(VA) and the rebounding velocity(VB) of the impact body by the moment the spherical testing tip is located at 1mm point from specimen surface.
With principle of electromagnetism,the permanent magnet in the coil of impact device produced an induced voltage, which is in proportion to the impact body velocity.
The leeb hardness values are calculated by the following formula:
HL=1000X(Vb/Va)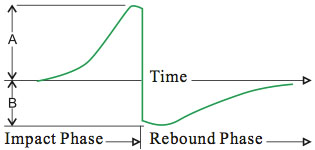 Using Scopes:
Die cavity of molds.
Bearings and other parts.
Failure analysis of pressure vessel, steam generator and other equipment.
Heavy work piece.
The installed machinery and permanently assembled parts.
Testing surface of a small hollow space.
Material identification in the warehouse of metallic materials.
Rapid testing in large range and multi-measuring areas for large-scale work piece.
Cover all features and functions of traditional models:

►6 exchangeable hardness scales (HRB/HRC/HV/HB/HS/HL),measurable for the hardness strength σb;
►6 selectable impact devices(D/C/G/DC/DL/D+15) available for special usage, automatically identify the type of impact devices;
►8 kinds of material available, suitable to measure the hardness of all metallic materials.
Exclusive Features:

►
Colorful Display:
Colorful High-definition IPS Screen, with 2.4inch QVGA (320*240 dot matrix);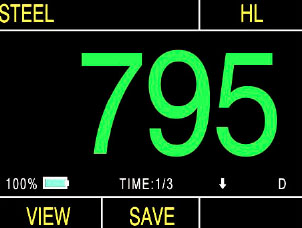 ►
Multilingual:
Support many foreign language,including English,French,Italian,Japanese,etc.,can add other languages according to request;
►
Multi-Scales Displaying Interface:
Simultaneously display three impact values for three different and frequently-used hardness scales-HRC,HV,HLD, meeting requirements of multi-scales displaying without conversion, which is more convenient for users;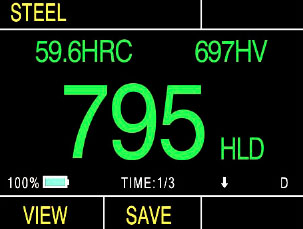 ►
Intuitive Curve Displaying Interface:
The intuitive curve is formed by the impact values for the latest ten times tests, which enables to have a better and clear observation to the uniformity of workpieces;
►
Mass Storage, Intuitive Testing Results:
Store up to 11000 groups of testing values, each group includes 1-8 impact values and one average value which shows three different hardness scales at the same time, besides the present group shows MAX and MIN values and maximal error, the storage data interface is so intuitive and easy to read that it brings much more convenient to the users on data analysis;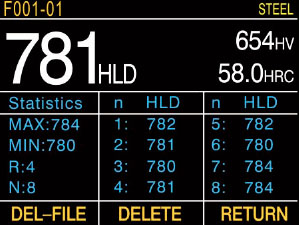 ►
Bond Font Displaying Interface:
Testing Values display in large and clear Font, which brings you legible and striking reading feelings.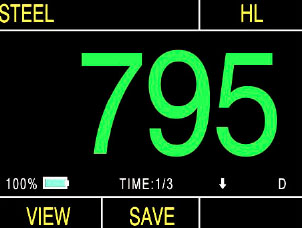 | | |
| --- | --- |
| Testing Range | HLD(200-960),HRC(19.8-68.5), HRB(13.5-100), HB(30-651), HV(80-976), HS(26.4-99.5), σb (375-2639). |
| Hardness Scale | HL, HB, HRB, HRC, HV, HS, σb. |
| Impact Device | Standard Type: D, Optional Type: C/G/DC/DL/D+15 |
| Accuracy | ±6HLD (HLD=800), Repeatability: <10HLD (HLD=800) |
| Resolution | 1HL, 1HV, 1HB, 0.1HRB, 0.1HRC, 0.1HS |
| Testing Direction | Vertically Downwards, Downward Sloping, Horizontal, Upwardly Sloping, Vertically Upwards |
| Display | Colorfully High-definition 2.4inch QVGA:320*240 dot matrix, IPS Screen |
| Available Material | Steel& Cast Steel, Stainless Steel, GC iron, NC iron, Cast Aluminum alloy, Copper-zinc alloy, Copper-tin alloy, Brass. |
| Storage | 200 Files,11000 Groups(each group includes 1-8 testing results and 1 average value) |
| Communication | Standard USB Port |
| Data Pro Software | Standard LmView Software, enable to data admin,store,print,etc. |
| Working Temp. | -10°C—+50°C |
| Power Supply | 2 AA Batteries |
| Dimension | 37x30x12cm (LxWxH) |
| Packing Weight | About 6.0 KG |
| Quality Standard | GB/T 17394-1998, ASTM A956 |
Error and Repeatability of Displayed Value:
No.

Type of impact device

Hardness value of Leeb standard hardness block

Error of displayed value

Repeatability

1

D

760±30HLD

530±40HLD

±6 HLD

±10 HLD

6 HLD

10 HLD

2

DC

760±30HLDC

530±40HLDC

±6 HLDC

±10 HLDC

6 HLD

10 HLD

3

DL

878±30HLDL

736±40HLDL

±12 HLDL

12 HLDL

4

D+15

766±30HLD+15

544±40HLD+15

±12 HLD+15

12 HLD+15

5

G

590±40HLG

500±40HLG

±12 HLG

12 HLG

6

E

725±30HLE

508±40HLE

±12 HLE

12 HLE

7

C

822±30HLC

590±40HLC

±12 HLC

12 HLC
Testing Range in Different Materials with Different Impact Devices:
Material

Method

Impact device

D/DC

D+15

C

G

E

DL

Steel and cast steel

HRC

20~68.5

19.3~67.9

20.0~69.5

22.4~70.7

20.6~68.2

HRB

38.4~99.6

47.7~99.9

37.0~99.9

HRA

59.1~85.8

61.7~88.0

HB

127~651

80~638

80~683

90~646

83~663

81~646

HV

83~976

80~937

80~996

84~1042

80~950

HS

32.2~99.5

33.3~99.3

31.8~102.1

35.8~102.6

30.6~96.8

Cold work

tool steel

HRC

20.4~67.1

19.8~68.2

20.7~68.2

22.6~70.2

HV

80~898

80~935

100~941

82~1009

Stainless steel

HRB

46.5~101.7

HB

85~655

HV

85~802

Grey cast iron

HRC

HB

93~334

92~326

HV

Nodular cast iron

HRC

HB

131~387

127~364

HV

Cast aluminum alloys

HB

19~164

23~210

32~168

HRB

23.8~84.6

22.7~85.0

23.8~85.5

BRASS(copper-zinc alloys)

HB

40~173

HRB

13.5~95.3

BRONZE(copper-aluminum/tin alloys)

HB

60~290

Wrought copper alloys

HB

45~315
Testing Parameter of Impact Devices: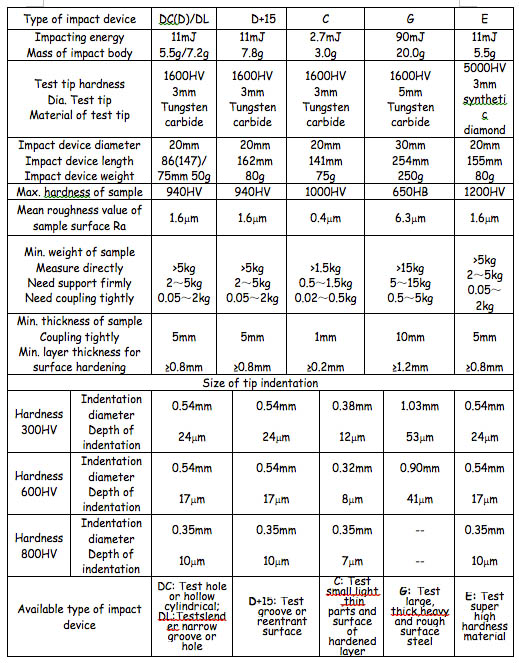 Standard Packing:
| | | |
| --- | --- | --- |
| No. | Items | Qty. |
| 1 | DH600 Main Unit | 1 |
| 2 | D Type Impact Device | 1 |
| 3 | Standard Hardness Block | 1 |
| 4 | Cleaning Brush | 1 |
| 5 | Small Support Ring | 1 |
| 6 | 2 AA Battery | 1 |
| 7 | Manual, Warranty Card, Quality Certificate | 1 each |
| 8 | Data Pro Software and USB Cable | 1 |
| 9 | Package Case | 1 |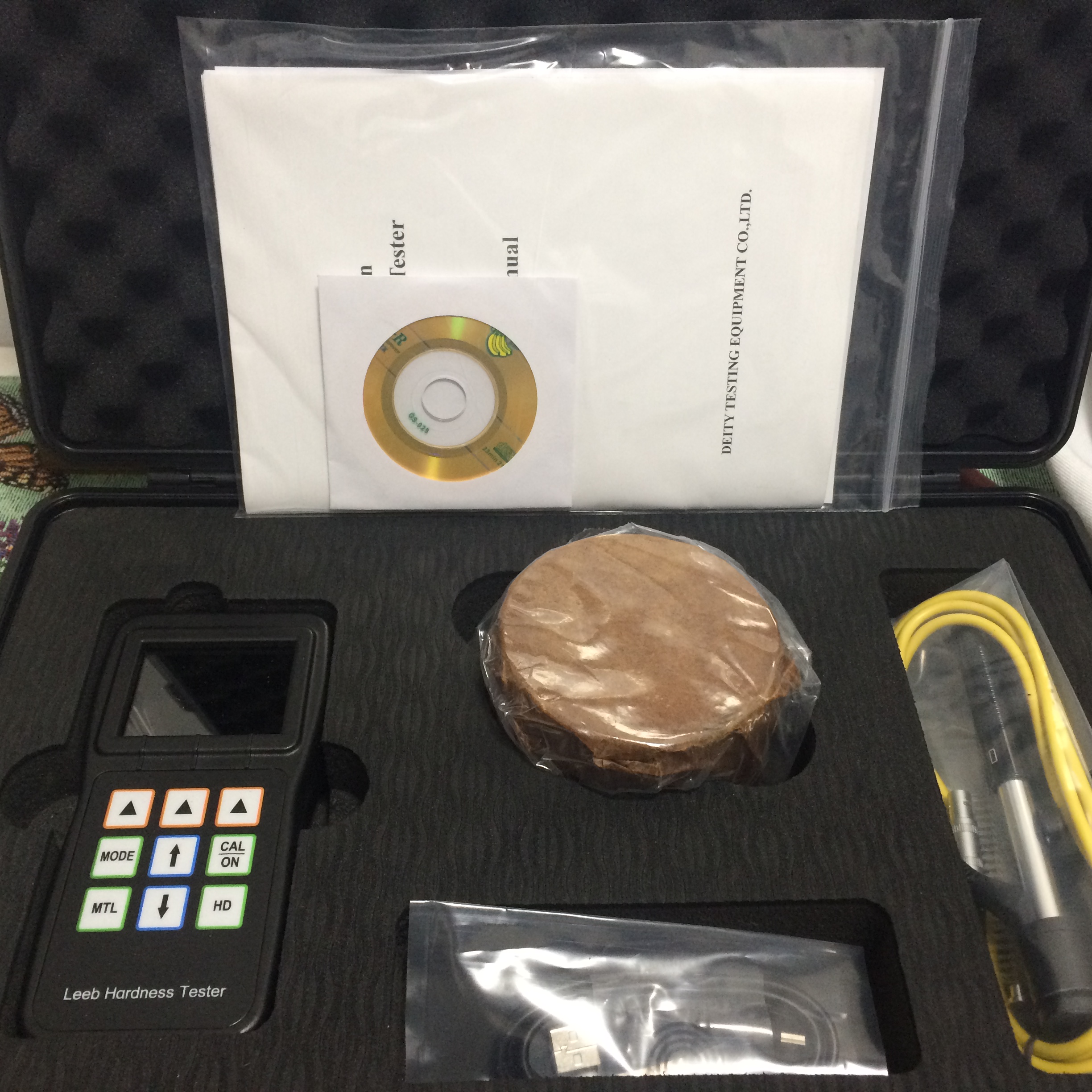 Optional Accessories:

| | | |
| --- | --- | --- |
| No. | Items | Notes |
| 1 | Impact Device | (D/C/G/DC/DL/D+15) |
| 2 | Impact Body | For all Types: D/C/G/DC/DL/D+15 |
| 3 | Cable for Impact Device | 1.5M long,3-pin cable |
| 4 | Supporting Ring | Standard Type and Special Type, 12pcs/set |
| 5 | Data Processing Software & USB Cable | |
| 6 | Standard Leeb Hardness Testing Block | 750-850HLD,590-670HLD,490-570HLD,550-630HLG,460-540HLG |
| 7 | Protective Rubber Sheath | |
| 8 | Belt | 1.2 M Long |
| 9 | Instrument Case | 35x28x10cm(LxWxH) |
Impact Devices(D/C/DC/DL/D+15/G)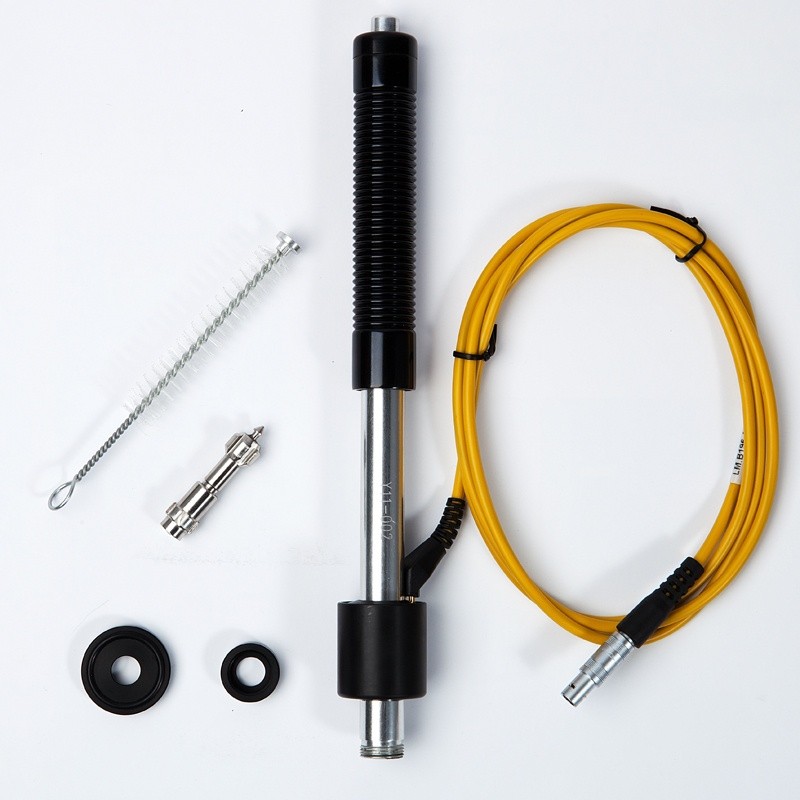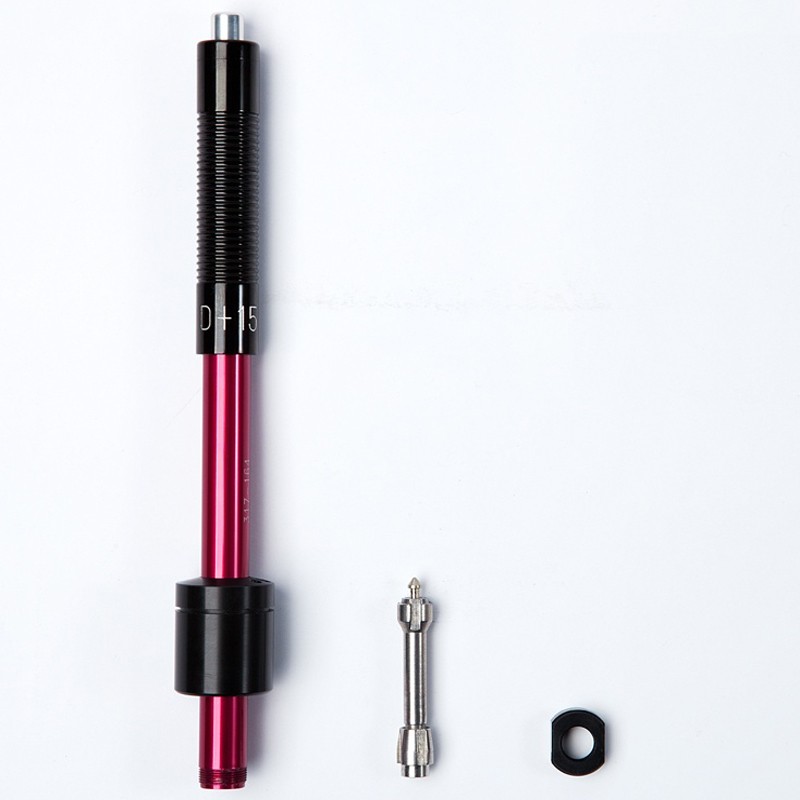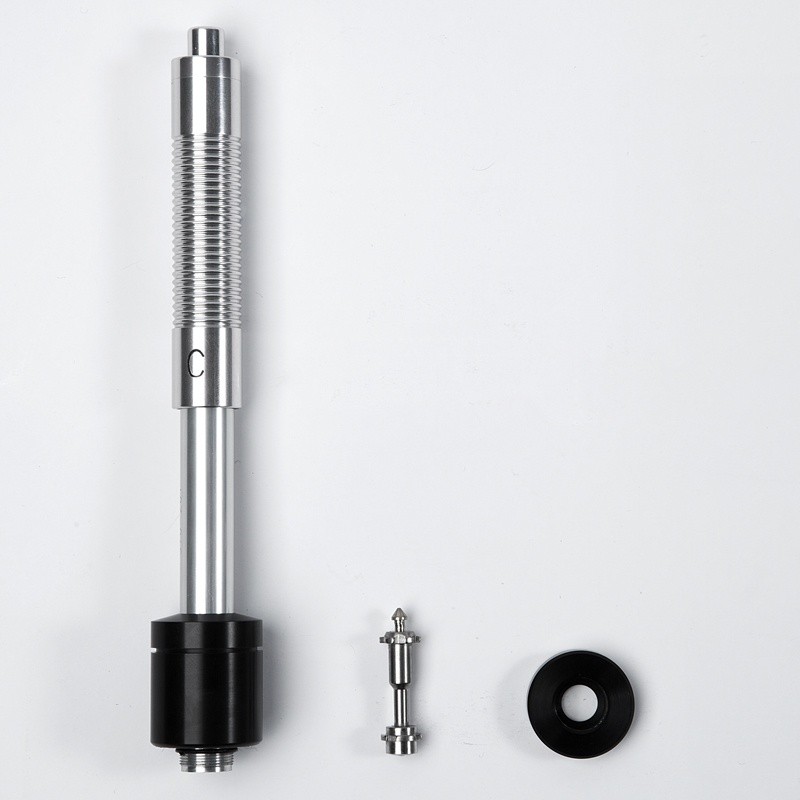 3-Pin Cable for Impact Device (D/C/DC/DL/D+15/G), 1.5M in length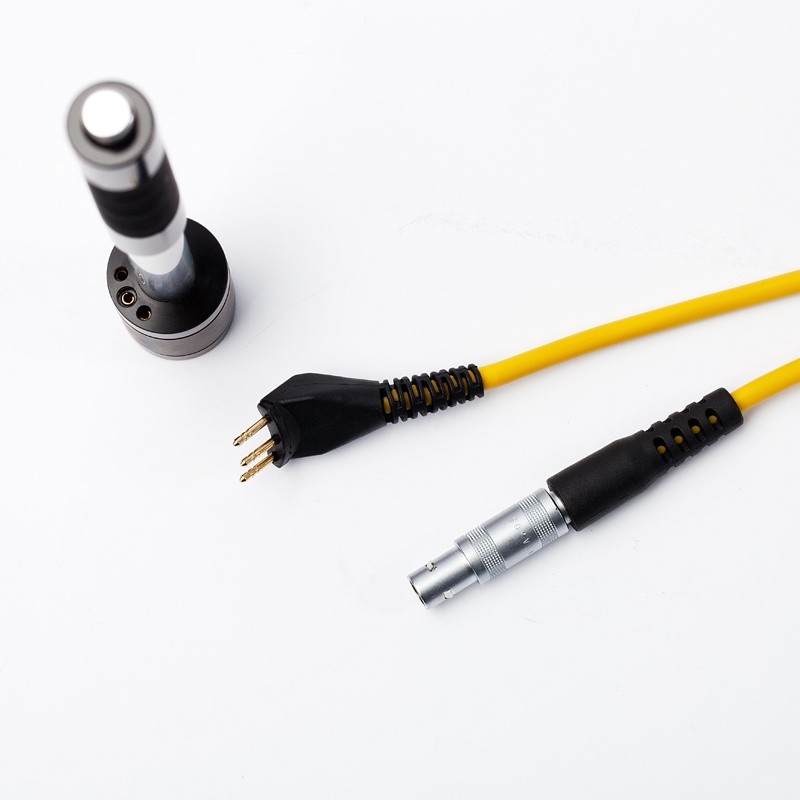 Impact Body (D/C/DC/DL/D+15/G)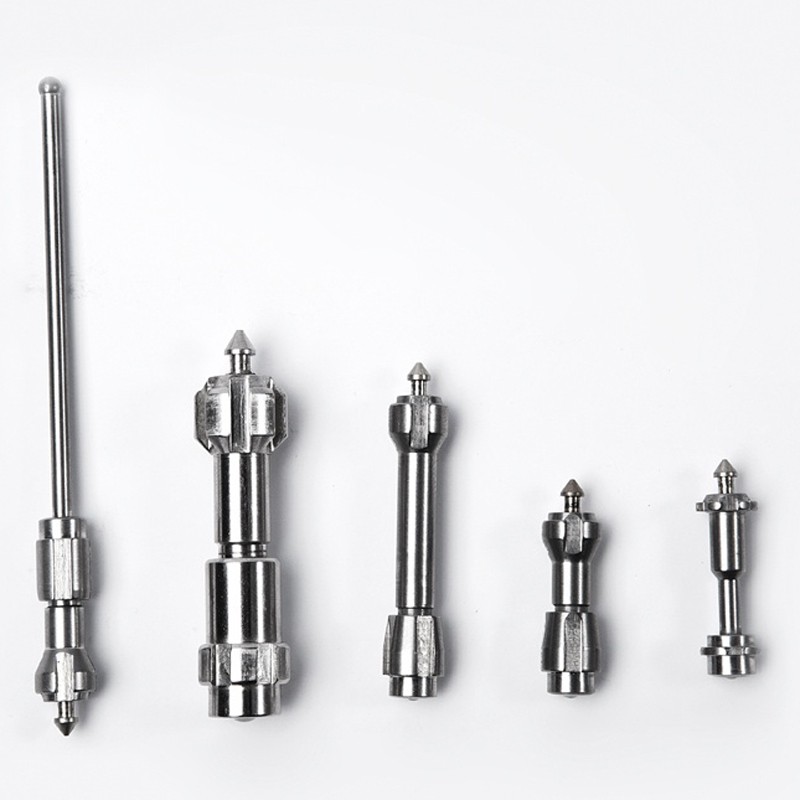 Supporting Rings(12 pcs. each set)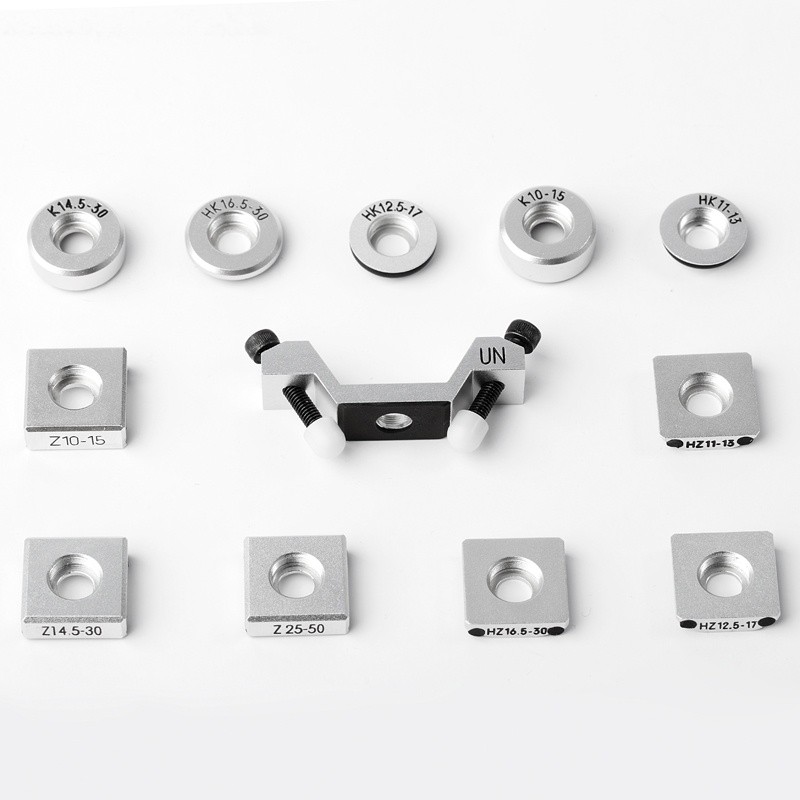 Specification of Supporting Rings: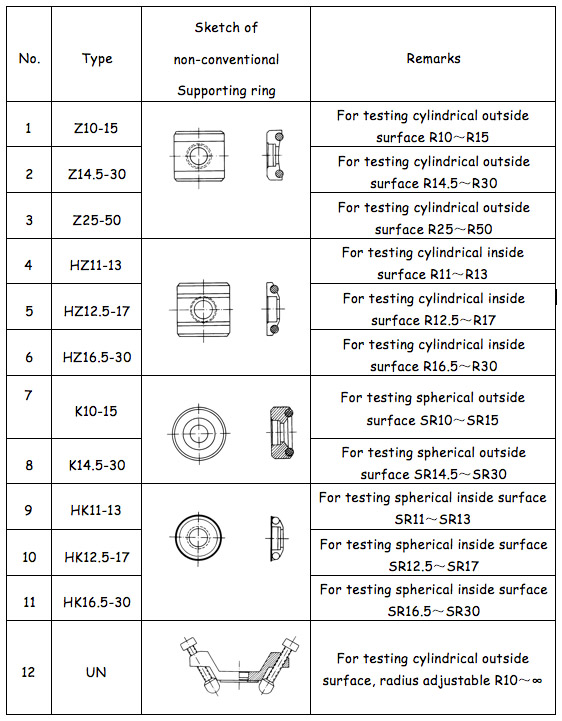 Data Processing Software (including USB cable)



Standard Leeb Hardness Testing Block

Items

Size

Dimension

Product Picture


Leeb Hardness Standard Block

750-850HLD

Ф 90 × 55 mm
2.75KG Each





590-670HLD

490-570HLD

550-630HLG

Ф120 × 70 mm
6.4KG Each

460-540HLG

AA Grade Leeb Hardness Standard Block

750-850HLD

Ф 90 × 55 mm
2.75 KG Each




590-670HLD

490-570HLD

550-630HLG

Ф120 × 70 mm
6.4 KG Each

460-540HLG