Tel: +86-10-89207378
Fax: +86-10-89207378
Mobile: WeChat:StillLeo
E-mail: info@dtec-ndt.com
Skype: stillsuccess1



Product : Touch Screen Micro Vickers Hardness Tester

Model : DHV-1000DT

Country of Origin : CHINA

Brand : DTEC

Quality Certified : GB/T231.2, ISO 6506-2,ASTM E10

Delivery Time : 5 days

Packing Weight : 75KG

Dimension : 58x37x88cm(LxWxH)

Package Type : Maker's Standard Export Carton Box

Courier : DHL/TNT/FedEx/UPS/EMS,Shipping Agent

Payment Term : TT100%/Private Bank Account/Credit Card/Paypal/Western Union
Product Intro
Feature
Specification
Packing List
DHV-1000DT TOUCH SCREEN Digital Micro Vickers Hardness Tester is the model with automatic data input and manual turret, it equips with large TOUCH SCREEN displaying screen and adopts menu-driven operation structure.
It is a new and high-tech DTEC product combining optical, mechanical and electronic techniques. With novel appearance, good reliability, operational functions and direct viewing, it is a new LOOKING Micro Vickers and Knoop hardness measuring equipment, which adopts high-precision optical measuring systems and precision coordinate test sets.
Additionally, this equipment is suitable for optional data processing software and optional CCD measuring system. Through handing menu keys, the equipment perform complete functions such as selecting Vickers or knop hardness testing mode, adjusting the intensity of black light, setting dwell time; besides, the length of indentation diagonal line can be keyed on operating board, then directly readout the hardness value from the screen, which is free from checking the tables.
Using Application:
Carburized layer, ceramic, steel, non-ferrous metals; sheet, metal foil, plating, fine specimen;
Applicable to the test on nitride layer, the gradient measurement of carburized layer and hardened layer; Suitable for precision Vickers measurement on parallel surface and tiny precision parts and thin parts.
Automatic data input and manual turret, adopting high-precision optical measuring systems and precision coordinate test sets;
Large touch screen digital displaying screen, menu-driven operation structure;
High speed blue tooth mini-printer, equips with RS-232 data port, suitable to connect to PC;
Suitable for match optional data processing software and CCD image measuring system;
Suitable for match knoop indenter to do knop hardness test;
Selectable and exchangeable among different hardness scales;
Automatic testing course, easy and convenient operation without man-made error, which guarantees high testing precision;
Machine accuracy is in line with GB/T4340.2, ISO6507-2 and American standard ASTM E384.
| | |
| --- | --- |
| Model | DHV-1000DT |
| Testing Force | 10gf (0.098N),25gf (0.245N),50gf (0.49N),100gf (0.98N), 200gf (1.96N),300gf (2.94N),500gf(4.9N),1000gf (9.8N) |
| Carried Standard | GB/T4340.2, ISO6507-2, ASTM E384 |
| Exchange Scales | HRA,HRB,HRC,HRD,HRF,HV,HK,HBW,HR15N,HR30N,HR45N,HR15T,HR30T,HR45T |
| Testing Range | 5~3000HV |
| Force Control Mode | (Automatic) Loading, Dwell, Unloading |
| Magnification of Microscope | 400X(For Measurement), 100X(For Observation) |
| Dwell Time | 0~60s |
| X-Y Testing Platform | Side:100*100mm Max. Moving Distance:25*25mm |
| Data Output | LCD Digital Display, outside blue tooth wireless mini printer and RS-232 port |
| Specimens Max. Height | 90mm |
| Specimens Max. Depth | 120mm |
| Power Supply | AC220V, 50/60Hz |
| Dimension | 63*40*78cm |
| Packing Weight | 70Kg |
| | | | |
| --- | --- | --- | --- |
| Items | Qty. | Items | Qty. |
| Weights Roller | 1 | Diamond pyramid indenter | 1 |
| Crossing Shape Testing Platform | 1 | sheet Testing Platform | 1 |
| Fine flat forcipate Testing Platform | 1 | Filament Testing Platform | 1 |
| Screwdriver | 2 | Bolt Adjustor | 4 |
| Horizontal Scroll Bar | 1 | 10X Testing Eyepiece | 1 |
| Standard micro Vickers Block(high,low) | 1 each | Fuse(2A) | 2 |
| Power Cable | 1 | Quality Certificate | 1 |
| User's Manual Book | 1 | Weight | 6 |
CCD Indentation Image Measuring Software(including PC):
Features:
1. This system can match a variety of Vickers hardness tester to upgrade stand-alone hardness tester or computer measuring system;
2. This measuring system can be integrated with DTEC hardness tester HVS-1000; computer-controlled for brightness adjustment etc;
3. Suitable for both micro and Vickers hardness tester, the maximum test force can be 1, 5, 10, 30, 50Kg;
4. With high indentation image resolution and indentation measurement by auto or manual;
5. Digital X-axis value, and automatically enter the program automatically generates the deep layer of hardness distribution curve (option);
6. Calibration by means of micrometer or hardness block, support automatical calibration;
7. Hardness scales can be converted freely according to ASTM standard;
8. Statistics for hardness values and alarm for hardness values out of range;
9. Easy to install, use laptops instead of desktop computers;
10. Interface is simple and easy to use without training;
11. Test reports can be customized; all testing data can be saved for long time and easy for historical inquiry;
12. Digital camera with 1280*1080 pixels, 1/2-inch, USB 2.0.
Gradient Test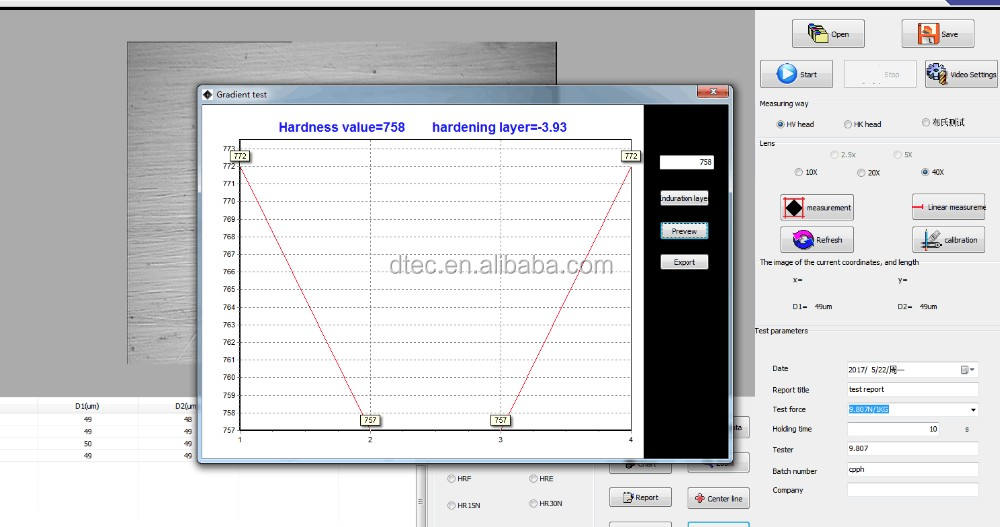 Indentation Length Test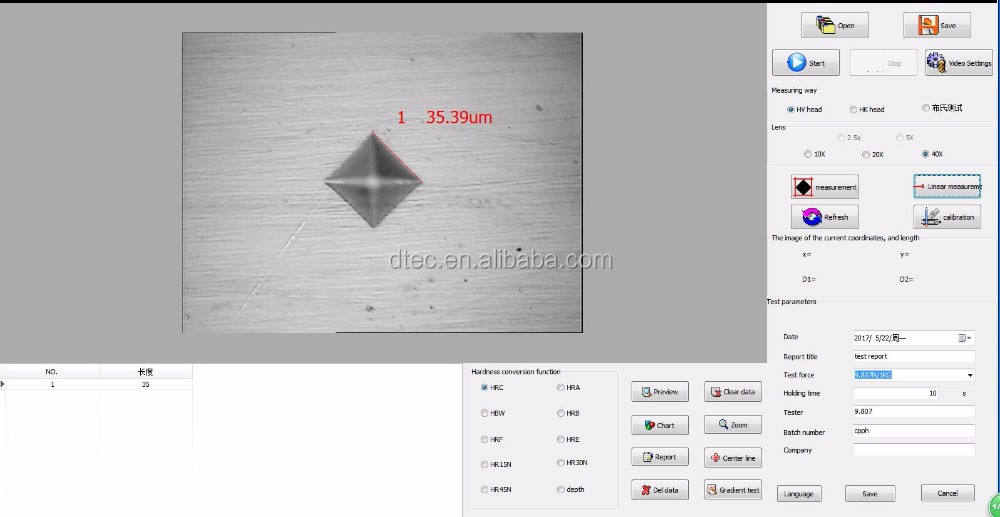 Test Report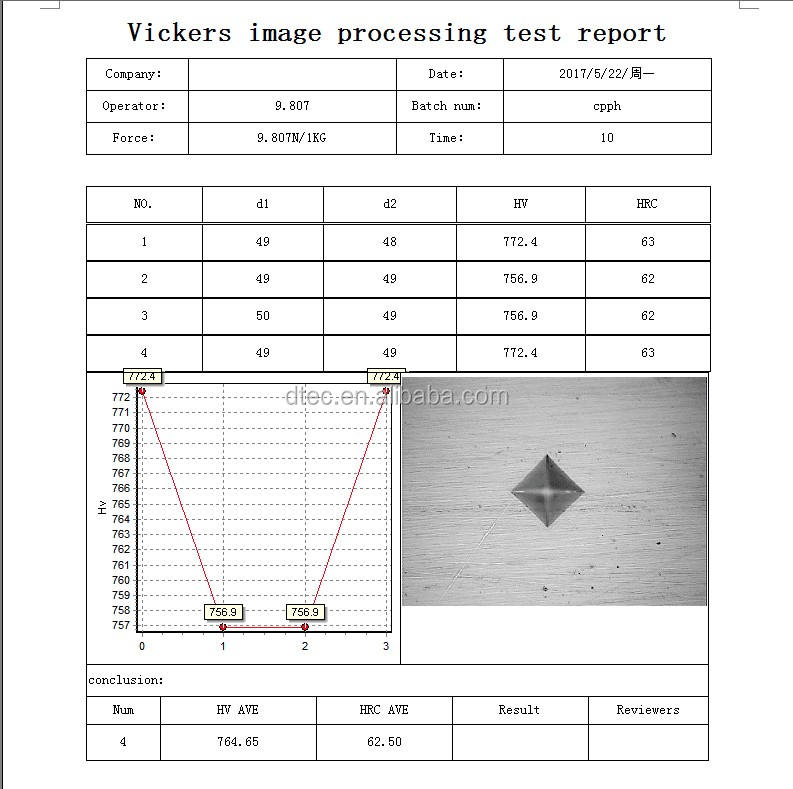 Standard Configuration:
| | |
| --- | --- |
| Items | Quality |
| 3.0M pixel Camera | 1Pcs. |
| Interfacing for hardness and camera | 1Pcs. |
| CD-ROM containing the software and manual book | 1Pcs. |
| Dongle | 1Pcs. |
| Lenovo Brand computer | 1Pcs. |
Micro Vickers Hardness Test Blocks(Both Square Type and Circular Type):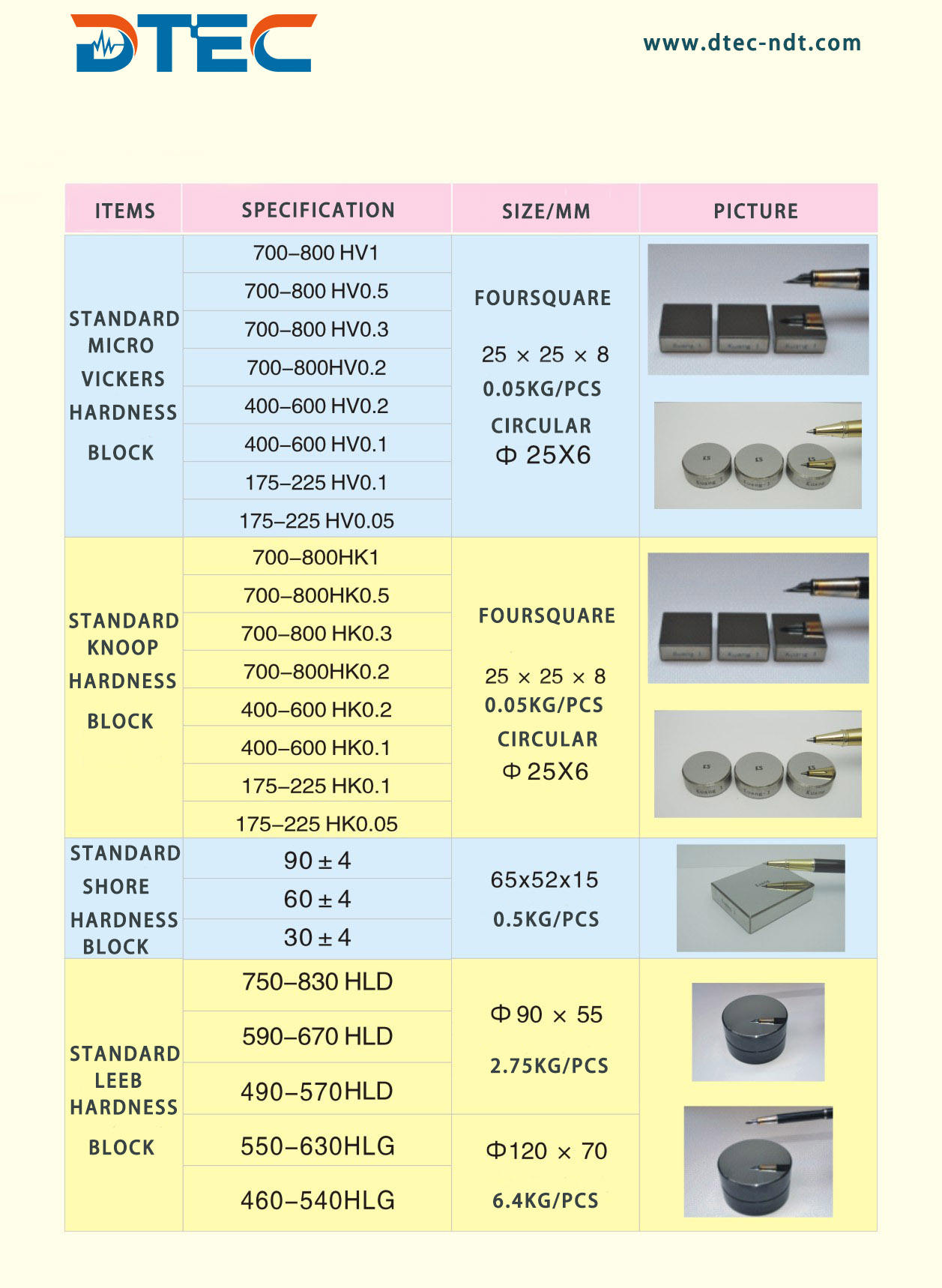 Indenters: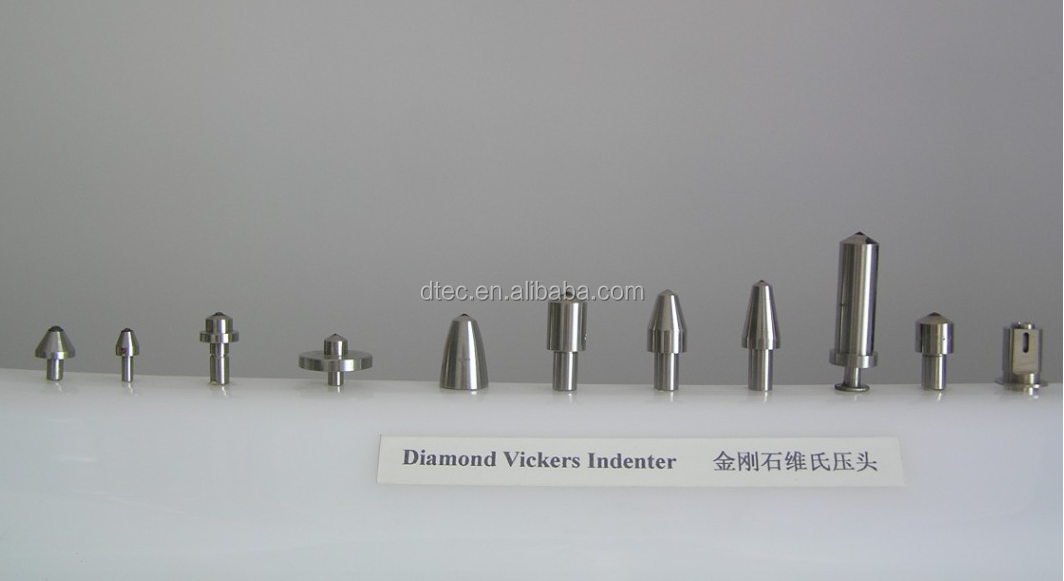 Production Line:

We are orginal manufacturer of desktop hardness tester in china,we have own production worshop which contains the full manufacturing procedure,from the beginning of hardness test shell forging and welding,to the processing of spars parts such as main bearings,weights,testing platesm,all these manufacturing procesure is devided into several different sections as see below pictures:
Processing of Hardness Tester Shell(sheet metal):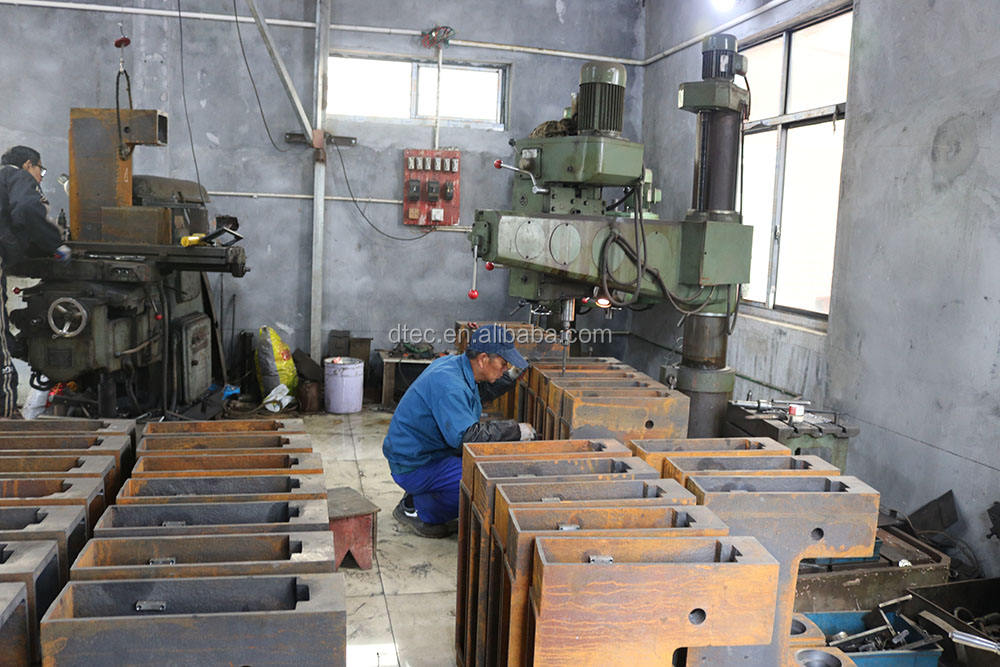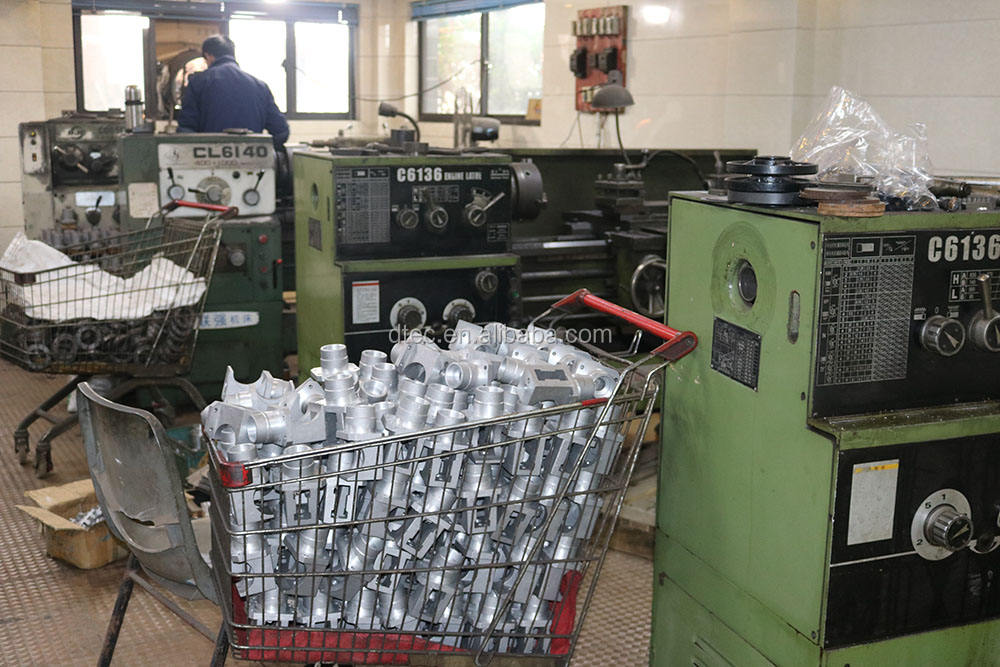 12 Months Quality Warranty from the day customers receive our goods;
Offer customer video of machine installment,handle,operation if they need;
If neccessory,we can provide on site adjustment and installment;
Lifetime Technical support and solution offered by means of vedio,telephone call,or r

emote assistance via

teamview;
Free supply certain spare parts within warranty period;
Free offer customer machine trainning in our factory,help to book hotel and air ticket in advacne;
Arrange considerate and 100% satisfed customer entertainment for coming visitor.